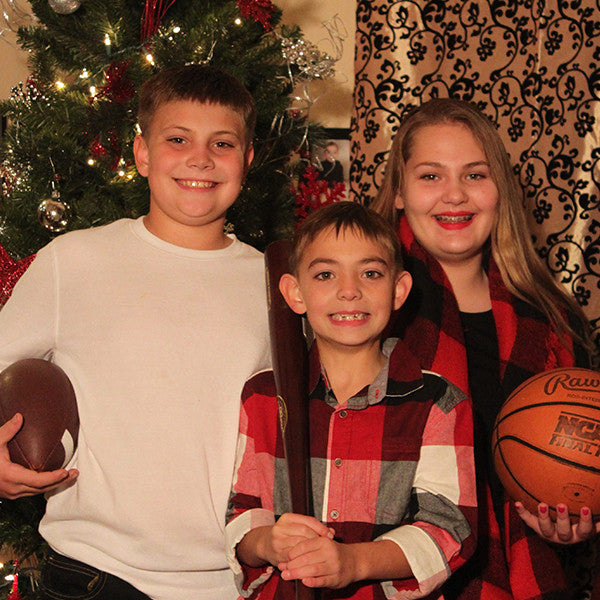 Any time I hear the phrase 'Family Tradition' I hear Hank Williams Jr's twang singing about his family traditions. As the holiday season is in full swing, I hope my family traditions are quite different than those of the Williams' family. Maybe replace the drinking and smoking with caroling and charity. One can dream…
The Little Rains children and I and had a discussion about our own family traditions. What and how they defined tradition was humorous and enlightening. Ella loves that we go to Christmas Eve communion and candle light service at our church. This is one of my favorite things too. Nick also appreciates this tradition as he gets to sing loudly and clearly the word "ass" along with the congregation during the song What Child Is This.
Natey loves Elf on the Shelf. He still believes and Ella has done a phenomenal job moving the elf consistently. Her mother didn't do such a good job moving it around and being creative with it when Ella was a believer, she's better than her predecessor.
My favorite traditions here at the Rains Compound revolve around food. We have a Christmas cookie day where we bake and decorate sugar cookies, make chocolate covered pretzels, and candy. This day always includes more children than the Little Rains children and it can be extremely messy and not so productive. It's awesome.
These traditions are great and everything, but sometimes can be more work than we believe they are worth. Stress is at an all time high for parents and children alike. I fall victim to holiday stress in fits and starts. Everything can go swimmingly and then fall apart all of a sudden. Sometimes I can handle those fall aparts with grace and understanding, other times not so much. Case in point…
Sunday the Little Rains children, along with my mother, sister, and nieces, loaded up to visit family in Tulsa. We don't get to see my mother's siblings often as they live in states other than Oklahoma, so it was important to me to get there. The morning of, we awakened to a 59 degree bedroom. The heater had broken at some point in the night. Due to the drop in temperature, we had an increase in people in our bed. Thus causing restless sleep and over sleeping. Ella was up and dressed in record time, Nick was worried about firewood and pipes freezing and couldn't focus on dressing. Natey refused all pants and decided that I didn't love him because he has no pants. Not one pair of pants. Not. One. He said this while in his closet filled with various pants, jeans, overalls, and pajama pants. After wrestling pants on his legs, he yanked them off and put shoes on. No pants.
At this point, my mother had called asking where we are, Ella reminded me we need gas for the car (Lady Scarlet), and Gus our Basset Hound vomited what I think was an heirloom ornament and some faux pine needles from one of our trees.
I'm not going to lie… I. Lost. My. Mind. I screamed in frustration and hurled a plastic Santa at the washer and dryer. Motivated by my sudden loss of adult-ing ability, pants were put upon bodies, shirts were whisked over heads, and children were sitting in a pre warmed car waiting to leave.
When we stopped at the gas station, Nick announced that our family tradition must include a mommy meltdown now. Ella said that mommy meltdowns had always been a part of our family traditions. Natey contributed (in his 80-year-old smoker voice) with "I don't care about meltdowns. I just need a donut and get rid of these pants."
My all of your holiday traditions remain meltdown free…not holding my breath for that at the Rains Compound.